Ticket frames are an easy way to present signs or tickets in a professional way.
There are a wide range of mounting accessories suitable for most situations, or we can manufacture to your requirements.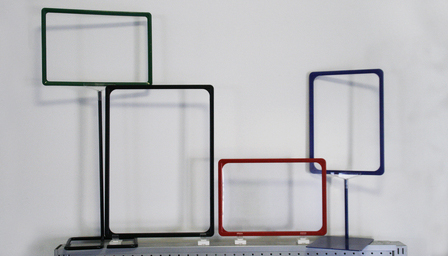 FRAMES

Easy load ticket frames available in

A8 - A0 sizes.

Standard colours black, blue, red & green.

sSme other colours available.
INSERTS

Clear PVC insert to protect ticket.

Makes loading the frame easier.
BASEPLATES:
BASEPLATE

Steel powdercoated base with tube for rod.

Rod supplied in required length.

 

BASEPLATE CURVED

Available in 700 & 900mm.

Powdercoated.

BASEKB

ABS plastic base plate for damp areas.

Requires either teleshaft or non-teleshaft.

Standard colour: black.

TELESHAFT

To suit BASEKB

Comes with T Piece
Frame Holders
T Piece

Attaches teleshaft

to frame


RA 1

Foot - 90 Degrees

Sold in Pair

RA 2

Foot - Angled Back

Sold as Pair
Frame Clips
Clip 110

Attaches frame to surface & swivels

Clip 104

Hangs frame from rod or wire

Clip 107

For making frame books

 

 
Magnetic Clips
MAGNET 118a

Attaches frame to vertical surface

Available in Black & White

MAGNET 118b

Attaches frame to horizontal surface

Available in Black & White

CLIP 118a

Replacement clip for MAG118a

CLIP 118b

Replacement clip for MAG118b
Frame Blades
Blade Frame Hanger

Hang frames on the front of stacks of cartons.

Example

In use
Frame Hanger
Frame Hanger

To hang frames vertically

Example

In use
KLICK FRAMES
Specialty Frames with a unique range of clip systems:
Sizes A8, A7, 148x70mm, A6, 210x74mm, 210x99mm available in Black, A6 available in Red.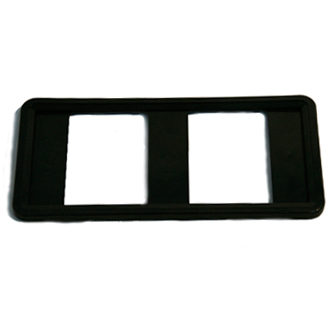 Clip 301

Back stand

Clip 307

Attaches to shelf fronts etc.

Clip 302

Attach to wire baskets

      Clip 313MAG

Magnetic Clip